AUDIT AND ASSURANCE

Our audit and assurance service professionals provide a range of audit and advisory services to assist clients in achieving their business objectives, managing their risk and improving their business performance. Our service include:
Internal process review

Internal / Management audit

Inventory Management

Assurance Services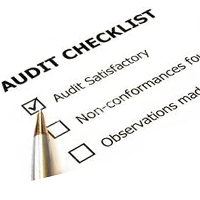 Internal process review
Internal controls provide bridge to success, reduce exposures to risks threatening business objectives. Our internal process review approach enables management and the board of directors to make smarter decisions regarding the types of controls necessary and the level of controls necessary to achieve the organizations objectives. We consider our client's organization complexity, as well as the complexity of transactions, dispersion of operations and sophistication of computer applications in determining our audit approach. Internal process review consists of
Review the existing business processes, internal policies and procedures.
Formulation and implementation of business internal policies and procedures.
Enable an organization to determine the important controls, assess those controls efficiently, and make a assessment as to their design and operating effectiveness.
Perform a critical review of process to highlight possible red flags and potential areas of revenue leakages.
Ensure significant improvement in the business processes efficiency.
Internal / Management Audit
Internal Auditing is an independent, objective assurance and consulting activity designed to add value and improve an organization's operations. We provide an independent professional evaluation and advise on the quality and effectiveness of the control environment within the organization. We also identify areas for improvement and implement strategies to help you to achieve your organizational objectives and make a positive contribution to the successful operation of your business.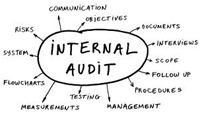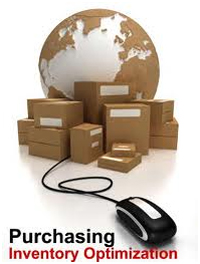 Inventory Management
A major part of working capital requirement of any unit would consist of maintenance of inventory. The Inventory Management system and the Inventory Control Process provides information to efficiently manage the flow of materials, effectively utilize people and equipment, coordinate internal activities, and communicate with customers. Inventory Management and the activities of Inventory Control do not make decisions or manage operations; they provide the information to Managers who make more accurate and timely decisions to manage their operations.
The basic building blocks for the Inventory Management system and Inventory Control activities are:
sales forecasting or demand management
sales and operations planning
production planning
material requirements planning
inventory reduction
The emphases on each area will vary depending on the company and how it operates, and what requirements are placed on it due to market demands. Each of the areas above will need to be addressed in some form or another to have a successful program of Inventory Management and Inventory Control. Our service includes:
review the procurement process
analyzes the demand and supply
review the stock levels (slow moving, fast moving and non moving items) and Economic Ordering Quantity (EOQ)
reviewing the inventory valuation methods
identify the gaps and eliminate the areas which hampers movement of stock and storage.
physical verification of stocks
Assurance Services
Assurance Services are independent professional services that improve the quality of information, or its context, for decision makers. Selected Assurance Services include:
system specification development review
business performance measures development and implementation
control self assessment
electronic commerce
information system reliability
management consultative services, e.g., policy formulation and business strategy.